Xavier Gourdon
and
Pascal Sebah
"No doubt the desire to obtain the values of these quantities to a great many figures is also partly due to the fact that most of them are interesting in themselves; for e, p, g, log 2, and many other numerical quantities occupy a curious, and some of them almost a mysterious, place in mathematics, so that there is a natural tendency to do all that can be done towards their precise determination"

J. W. L. Glaisher, 1915
---
This site is dedicated to mathematical, historical and algorithmic aspects of some classical mathematical constants (like p, e, Euler's constant g, z(3), ¼). A few results on prime numbers are added. Easy and fast programs are also included and can be downloaded.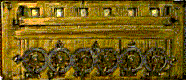 ---
Awards
---
We shall appreciate any remark or comment on this site
Contact us : xgourdon@yahoo.fr, psebah@yahoo.fr
Copyright © 1999-2010 by Xavier Gourdon & Pascal Sebah
All rights reserved.
Loading